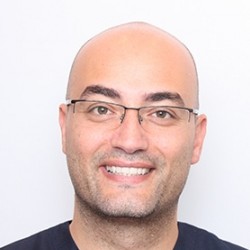 Periodontist
Ilay Maden
BDS MSc PhD
Laser Dentist
View Ilay Maden's clinical portfolio, articles and full profile
6,000 UK Dental Professionals connect on Dental Circle
About Me
Specialisms:

Periodontist
Dr. Ilay Maden BDS, MSc, PhD was born in 1980, in Istanbul. He studied dentistry (1998-2003) and did his Ph.D. studies for periodontology (2003-2009) in University of Istanbul. He has received his Master of Science degree for Lasers in Dentistry from Aachen University, Germany (2005-2007).
Dr. Ilay Maden is the co-director, lecturer and trainer of Seesaw Dental Education and representative of AALZ in the United Kingdom. He is also an Adjunct Faculty Member of Aachen Laser Research Center; AALZ, Aachen University, Germany, an expert lecturer for Laser and Health Academy and a training instructor for International Continuing Education Center for Dental Implants; IFZI – Germany. He has held a number of theoretical and hands-on courses and lectures on diode, Nd:YAG and Erbium lasers in dentistry in Turkey, Portugal, Croatia, UAE Norway, Taiwan, China, Sweden and United Kingdom. He has been a speaker in a number of international congresses regarding lasers in dentistry in Turkey, Croatia, UAE and Germany. In addition to being on the editorial board of ProDentalCPD and Journal of Laser and Health Academy, he is also a reviewer for Lasers in Medical Science; one of the leading international journals in the field of medical applications of lasers and light.
Dr. Ilay Maden is a member of Turkish Dental Association, European Federation of Periodontology, Turkish Periodontology Association, Turkish Association of Aesthetic Dentistry Academy and British Dental Association. He is the principle dentist in a private dental practice where he is majorly performs laser supported implantology and periodontal treatments since 2005, in Istanbul.
Experience
Education