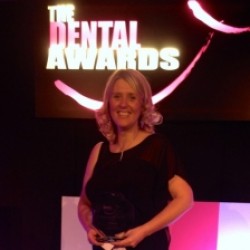 Hygienist
Faye Donald
Dip Dental Hygiene
Dental Awards Dental Hygienist of The Year 2014 and DH&T's Best Hygienist 2014
View Faye Donald's clinical portfolio, articles and full profile
11,000 UK Dental Professionals connect on Dental Circle
About Me
GDC Number:

5834


Faye qualified from Leeds in 2001 with a Diploma in Dental Hygiene. She went on to work in general practice in North Yorkshire before returning to college in 2006 to study for the National Certificate in Counselling Skills & Behavioural Therapy, a skill she uses daily to treat patients with varying degrees of emotional needs. In 2007 she joined Specialist Periodontal Practice in York where she still works alongside a specialist periodontist BDS MSc (perio)
Faye has continued to improve her clinical skills and knowledge and completed a Master Class in Periodontal Skills at The Eastman in 2012 and the Post Graduate Certificate in the Advanced Management of Periodontal Disease and Extended Patient Management in 2013. She is currently studying for a diploma in diet & nutrition,
As well as Specialist Practice Faye also still works in General Practice where she has founded her referral based hygiene clinic.
In January 2014 Faye was voted DH&T's 'Best Hygienist' and June of the same year, she won the prestigious 'Dental Hygienist of the Year' award at the National Dental Awards.
Experience
Education
Leeds Dental Institute
Diploma
1999 - 2001