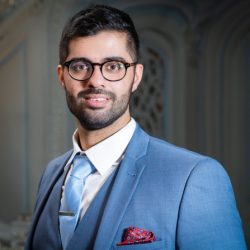 Dentist
Ajay Kumar Dhunna
BDS
Providing clinical excellence to patients as well as education to young dentists through complete clarity and personal opinions
View Ajay Kumar Dhunna's clinical portfolio, articles and full profile
11,000 UK Dental Professionals connect on Dental Circle
About Me
GDC Number:

278581


I am currently a first year associate working in Wolverhampton and Telford in both private and mixed practice.
My route through dentistry has been excelling since university when I was appointed the representative for the British Academy of Cosmetic Dentistry (BACD) to represent Cardiff University. This experience exposed me to a much wider world of dentistry and kickstarted my ambition for dental clinical excellence. 
I have carried on working with the BACD over the last couple of years which has allowed me to get involved with the education of young dentists and helping to organise events. The BACD recognised this which led to my appointment to the Young Membership Committee as one of the youngest members of any BACD committee. My commitment to education is continually shown through my efforts to help young dentists.
Clinically, I have been working at the Smileworks practices to give me invaluable experience. From being mentored through orthodontic cases, to shadowing and taking part in oral surgery days every month on a team that dealt with an NHS tier 2 oral surgery contract, I feel my skills have developed to allow me to become a well rounded clinician.
Professional development is very important to me, which is why I have undertaken a number of courses to help improve my clinical experience and offer more options to my patients. Below is a list of my further education and ventures:
-BACD meetings: occlusion, photography, posterior composite, Bioclear Matrix, Clear aligner therapy
-Mini Smile Makeover: attended 3 times, twice as a delegate and once as an observer/ demonstrator
-Dentinal Tubules: Student Engagement Committee
-BACD Young Membership Committee
-Invisalign Full provider
-Cosmetic Dentistry and Aesthetic Restorative Dentistry Certification Programme starting October 2019
Experience
Associate Dentist
September, 2019

-

present
Associate Dentist
September, 2018

-

present
Smileworks Carlton Chambers
Foundation Dentist
September, 2018

-

August, 2019
Smileworks Carlton Chambers
Smileworks Carlton Chambers, Queen Street, Wellington, Telford, TF1 1EW
Starting September 2018, I carried out my foundation training here gaining a myriad of experience in general dentistry, orthodontics and oral surgery.
Education
Cardiff University
BDS
2013 - 2018