Waterfront Dental Education Dental Implantology Year Course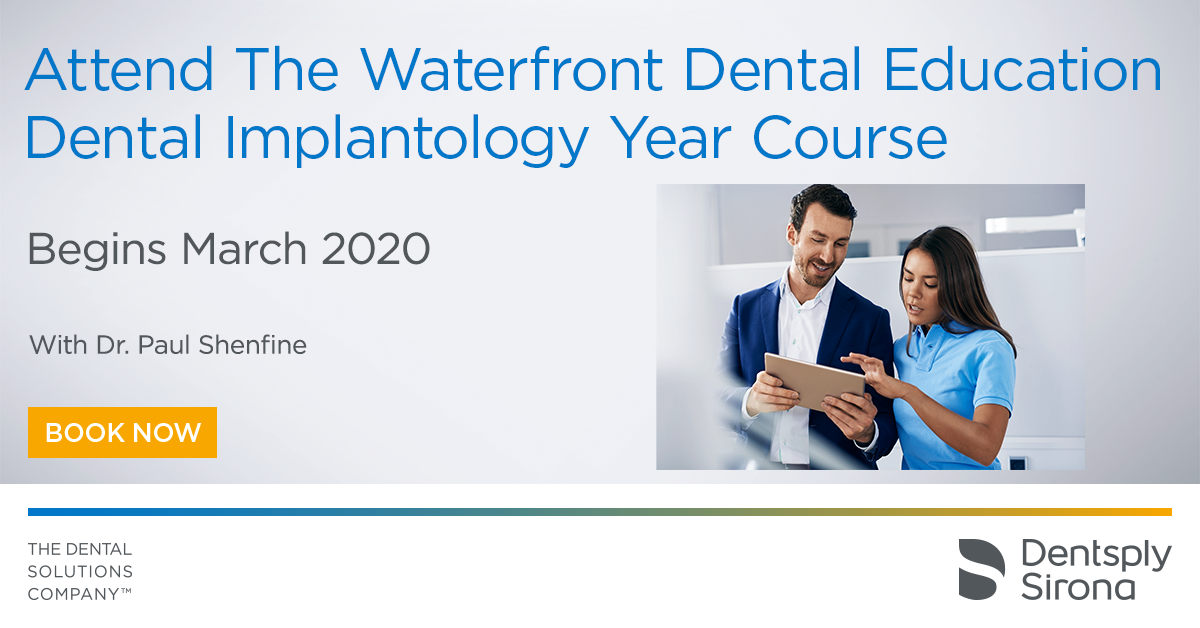 Description
Implant Inculate is a new initiative by Dentsply Sirona in partnership with Paul Shenfine, and Waterfront Dental Education, Newcastle that provides a practical and theoretical introduction to dentists who want a solid foundation to start placing and restoring implants; happily, safely and efficiently.
The program comprises a well-structured lecture and hands-on postgraduate training program over ten two-day modules on Fridays and Saturdays throughout 2020. By way of lectures, seminars, hands-on practical training, surgery demonstrations and one-to-one surgical teaching. The program will help you to develop the necessary skills in the assessment, diagnosis, treatment planning and consenting – with particular emphasis on the development of the surgical skills necessary for the placement of straightforward dental implants.
This program uniquely offers complimentary mentoring for your first implant case, with the surgery being recorded to allow viewing and critical appraisal following the surgery. After completion of the course you have the opportunity for continued one to one mentoring, and on-going support as you progress on your implant journey.
Module specification with Expected Learning Outcomes:
Entry requirements
Attendees must have a recognised degree in dentistry.
Attendees must have completed FD or GPT training or have more than 12 months experience in general dental practice
Attendees must be registered with the GDC
Program Aims
To provide a structured postgraduate training program in dental implantology
To develop skills in the assessment, diagnosis, treatment planning, consenting and practical implementation for the placement of straightforward dental implants
To understand the ethical requirements and practice to the appropriate skill level for the protection of patients to improve their oral health
Program Learning Outcomes
To understand the basic sciences (anatomy and physiology) underpinning implant dentistry
To analyse and apply relevant research and its implications for the practice of implant dentistry
To understand, critically apply and learn how to present all treatment  options for a patient presenting with either partial or complete tooth loss
To develop the knowledge of short and long term complications (and potential compilations) in dental implantology and their appropriate management
To understand the scientific rationale underpinning surgical and prosthetic treatments involving implant dentistry and the other alternative treatment options
Intellectual and Practical Skills
To demonstrate an understanding and critically analyse and practical applications for scientific research and literature as it applies to implant dentistry
To critically assess any patients suitability (both practically and theoretically) for both the surgical and restorative aspects of dental implants
To be able to correctly assess the degree of difficulty and risks involved (using a patient centred approach) in dental implant placement
To have the knowledge and understanding of which patients to refer and to always operate safely within their own level of skill and understanding
To be able to define their own strengths and weaknesses so as to seek appropriate continual professional development of clinical knowledge and skills
To communicate effectively with patients, other members of the dental team and other dental or medical professionals
To be able to successfully place and restore straightforward dental implants using evidence based dentistry
Dates of the course: Always Friday and Saturday; It will be 20 days over 10 months
27th & 28th March 2020
24th & 25th April 2020
22nd & 23rd May 2020
19th & 20th June 2020
17th & 18th July 2020
25th & 26th September 2020
23rd & 24th October 2020
20th & 21st November 2020
15th & 16th January 2021
12th & 13th February 2021