Refer & Restore Evening on Ankylos Implant System® with Andrew Fennell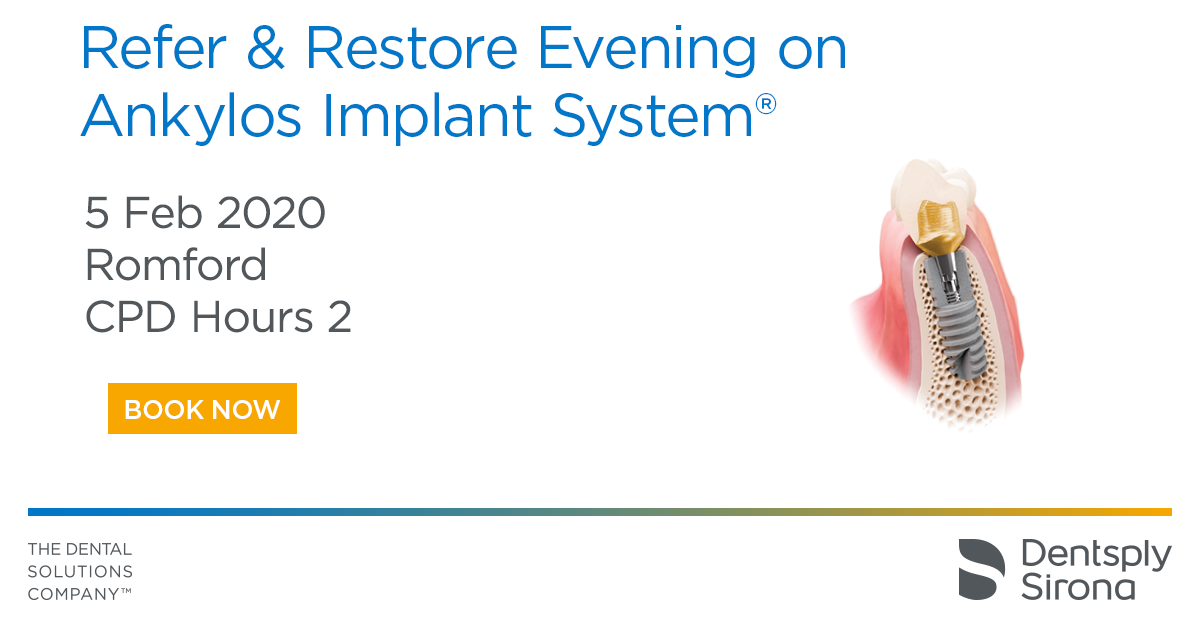 Refer and Restore is a unique initiative by Dentsply Sirona in partnership with Andrew Fennell at the  Winning Smiles, that provides a learning platform to dentists who want to take their first step into the world of restoring implants. The program comprises a well-structured lecture, hands-on training and the possibility to also observe a patient in real time. It covers various topics from diagnosis and patient selection, all the way through to final restoration, follow-up and maintenance.
This program will support you through your very first implant referral and restoration. Dentsply Sirona will also support you with refresher training and a complimentary prosthetic tool kit for your very first case.
Restoring Dental Implants in your Practice – Yes You Can!
You don't have to learn to perform the surgical placement of dental implants to be part of this fast developing area of dentistry. Straightforward cases can be restored by the patient's own dentist with no more difficulty than fitting a conventional crown or bridge.  Join us at this exclusive, FREE training event to learn how easy it can be to undertake implant restorations for your patients as part of everyday dentistry:
PROGRAMME:
Informal presentation about restoring dental implants for your patients
LIVE demonstration of implant abutment crown restoration technique
Hands-on impression taking for implant restoration (using models)
COST: FREE! Plus claim a free  mini prosthetics kit upon your first referral.
The number of places at this event is strictly limited, so please confirm your attendance early
You can earn up to 2 hours Verifiable CPD by attending this event
The Refer & Restore programme gives you the training and tools needed to restore single tooth cases using the Ankylos Implant System®.
Attending this course will give you a greater understanding of dental implant procedures and how you and your patients can benefit from referring them for dental implants.
AIMS & OBJECTIVES
An introduction to dental implants and the procedures used to restore straight forward cases for the General Dental Practitioner
INTENDED LEARNING OUTCOMES
You will have an understanding of how to take an implant level impression on a single tooth case
You will have an understanding of the components and restorative protocol