Profitable Composites with Dr Jason Smithson
Event Navigation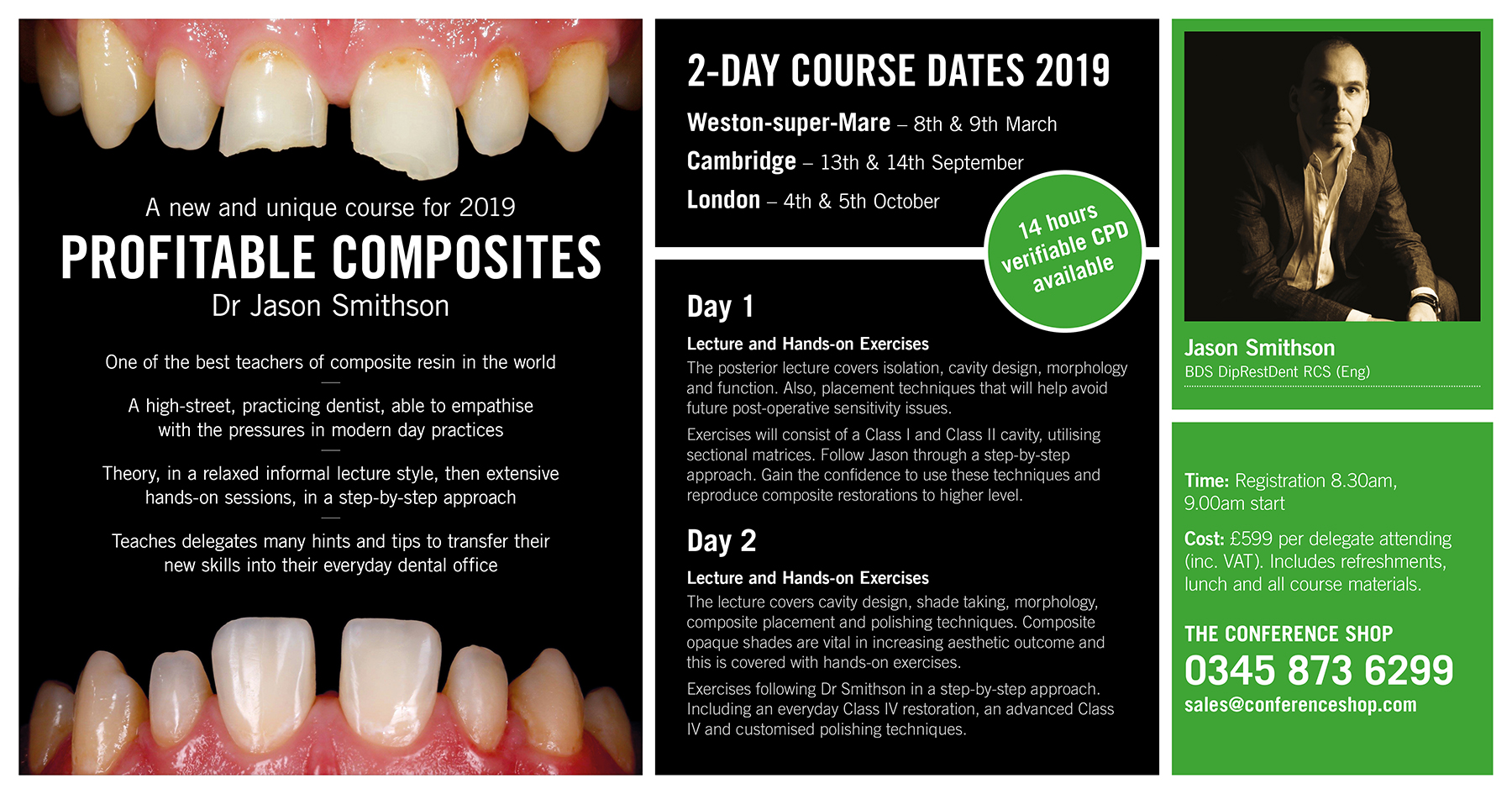 Jason Smithson is simply one of the best teachers of composite resin in the world. As a high-street, practicing dentist, he is able to empathise with the pressures in modern day practice. Therefore, he teaches in a way that offers each delegate, many hints and tips on how to transfer their new skills into their everyday dental office. Delegates will listen to the theory, in a relaxed informal lecture style, then move onto the extensive hands-onsessions, where time will be given to practice the new techniques learned, in a step-by-step approach. This 5* course run by Kulzer Ltd is not to be missed and will undoubtedly sell-out, so early booking is recommended.
Day 1
Lecture and Hands-on Exercises
The posterior lecture will cover isolation, cavity design, morphology and function, as well as placement techniques that will help avoid any future post-operative sensitivity issues. By using simple composite placement techniques, clinicians can learn how to save finishing time. By learning and reconstructing
the morphology of the natural tooth, finishing and polishing will be kept to an absolute minimum. Delegates will impress themselves with their newly learned skills.
Exercises will consist of a Class I and a more complex Class II cavity, utilising sectional matrices to ensure tight contact points are achieved. Jason will take the participants through a step-by-step approach in which they copy his every step. At the end of the day, each delegate will have the confidence to use
these techniques and reproduce composite restorations to an increasingly high level.
Day 2
Lecture and Hands-on Exercises:
The lecture will cover cavity design, shade taking, morphology, composite placement and polishing techniques. The use of composite opaque shades is vital in increasing the aesthetic outcome for the patient and this will be covered throughout the day with the hands-on exercises being designed to practice these techniques. Everything discussed and practiced throughout the day will help towards reproducible and consistent results in everyday practice.
Exercises will be conducted by following Dr Smithson in a step-by-step approach. They will include an everyday Class IV
restoration, as well as a more advanced Class IV incorporating tints and effect shades, which will allow the clinician to colour match each case that is presented in the future. Time will be also given to customised polishing techniques that can change theappearance of the final restoration.