#WHITEOLOGY STYLEITALIANO MASTERCLASS – ITALY
Event Navigation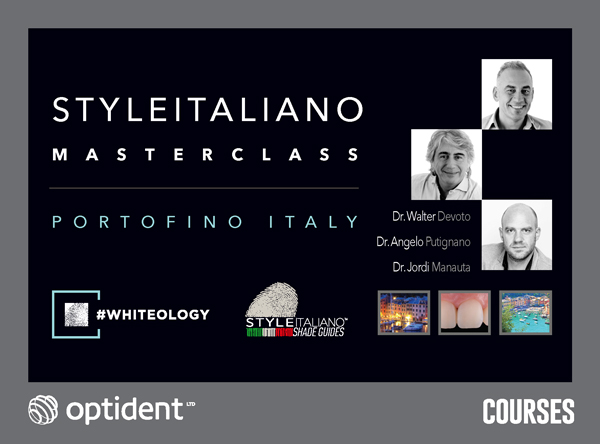 #Whiteology – StyleItaliano Masterclass
Welcome to the #WHITEology StyleItaliano Overseas Masterclass, situated on the exclusive shores of Santa Margherita in Italy.
This 2-day intimate course promises to offer an experience you won't forget. The Optident team will host this event including the hands-on workshop, meals and entertainment. Learn from three StyleItaliano leaders in the magnificent Portofino Med facility.
What is #whiteology?
#whiteology – The study of beautiful and healthy smiles, divided into many specialised fields covering anatomy, aesthetics, expression, confidence and happiness.
Much more than a new discipline, #whiteology is a unique blend of simple techniques, handpicked materials and first-class education – equipping every dentist with the skills required to offer their patients the smile they deserve; using minimally invasive, predictable and repeatable results.
An Unforgettable Experience
This landmark event, dedicated exclusively to the #whiteology principles, gives you exclusive access to learn from three of the leaders of restorative dentistry; Walter Devoto, Angelo Putignano and Jordi Manauta. Set on the stunning coast line of Portofino, this unique workshop promises to provide attendees with a truly unforgettable experience.
Experience Italy
Begin your experience on the day of the masterclass or extend your visit to Italy by incorporating the masterclass as part of your holiday experience. The masterclass is designed with flexibility in mind*, and guests are encouraged to arrive earlier and explore and relax before embarking on their learning experience. Both days of the masterclass include meals, and partner tickets enable your guest to join the evening meal on both nights. The Optident team are notorious for hosting enjoyable overseas events in the dental industry, with many leaving with lifelong friendships and new connections.
Learning Objectives
– Observing & understanding colour of teeth
– Whitening teeth to create optimum foundations for restorative dentistry
– Alignment & aesthetics
– Photography, records and patient communication
– Direct minimally invasive techniques
– Restoring smiles for health and aesthetics
Course Schedule:
Day 1: 23rd September 2019
9.00 Teeth colour, beauty or beast? Dental colour, modern concepts
10.30 Break
11.00 Bleach, align and restore, the full aesthetic bundle
12.30 Lunch Break
14.00 Practical – PART 1: White restoration of an anterior complex case
15.30 Break
16.00 Practical – PART 2: White restoration of an anterior complex case
Day 2: 24th September 2019
9.00 Patient care and bleaching records Practical – Documentation and photos records of bleaching
10.30 Break
11.00 Masking dark teeth
12.30 Lunch Break
14.00 Practical – PART 3: White restoration of an anterior complex case
15.30 Break
16.00 Practical – PART 4: White restoration of an anterior complex case
StyleItaliano – A History
StyleItaliano was founded by Walter Devoto and Angelo Putignano. It is more than a group of dentists or a technique. It's an 'ideas factory', a philosophy, an education project, a research group, a circle of lecturers, a website and a Facebook community with 160,000 followers. StyleItaliano has developed – among many other things – numerous restorative techniques, high-end products in collaboration with different companies, many clinical and research papers, and an innovative training centre in the beautiful landscape of Portofino in Italy. Every project is based on friendship, hard work and inclusivity. Beauty is created by simplicity and backed by science.
Recommended Hotels & Flight Options
http://www.hoteljolanda.it/en/ – Hotel Jolanda, Santa Margherita. 3 ***
https://www.metropole.it – Hotel Metropol, Santa Margherita 4****
Flight options:
UK- Genova – 1h transfer to Santa Margherita
Direct flights from London Gatwick, Stanstead, Luton
Indirect Flights from all other UK airports
UK- Pisa – 1h 40 m transfer to Santa Margherita
Direct flights from most UK airports
Course Fees
Course Fee: £1800 + VAT
This includes 2 days Masterclass, lunch, refreshments, evening dinner and entertainment. *Hotels and flights are not included.
Partner Rate: £250 + VAT – (tickets only available with a full paying course delegate)